Our Fire Halls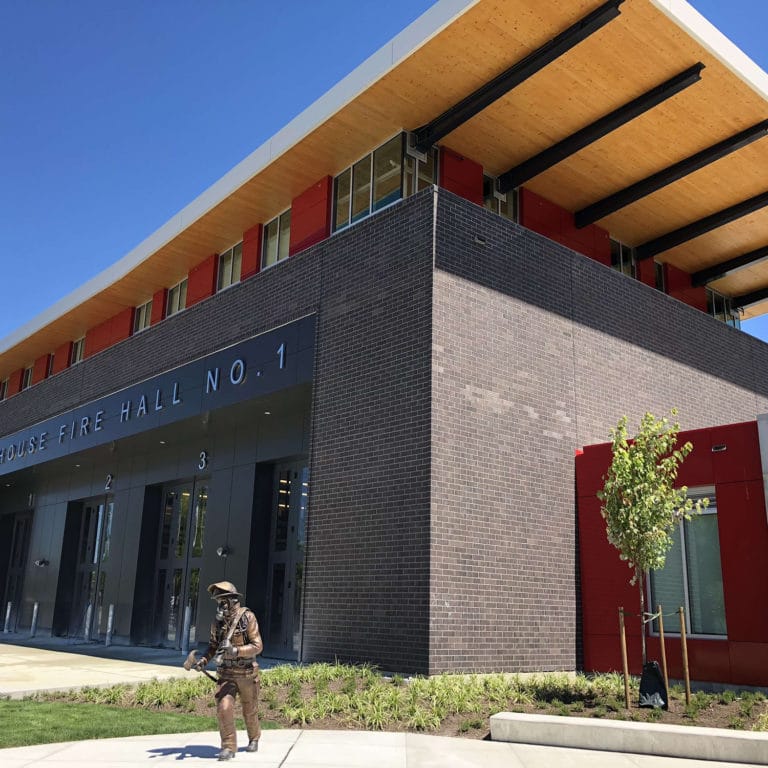 Brighouse (City Centre)
No. 1 Hall
6960 Gilbert Road, Richmond, BC V7C 3V4
Officially opened September 15, 2018, the 25,000 square foot new facility replaced the 50-year-old 17,000 square foot original Brighouse location.
The design of the new fire hall meets strict operational requirements to fulfil the needs of our growing community while also presenting a solid civic image. This new facility is post-disaster rated to ensure it will remain operable should a major seismic event occur. It is also sustainably designed to meet Leadership in Energy and Environmental Design (LEED) Gold standards.
In addition to being an operational Fire Hall, it is home to Richmond Fire-Rescue's administration, Fire Prevention and Community Relations, and Emergency Programs Branches.
Tour the Brighouse Fire Hall
We are excited to be able to provide you with a tour of the incredible Brighouse Fire Hall conveniently online.
Now you can take a tour whenever it fits into your busy schedule. We hope to see you in person soon!
Enjoy the tour.
---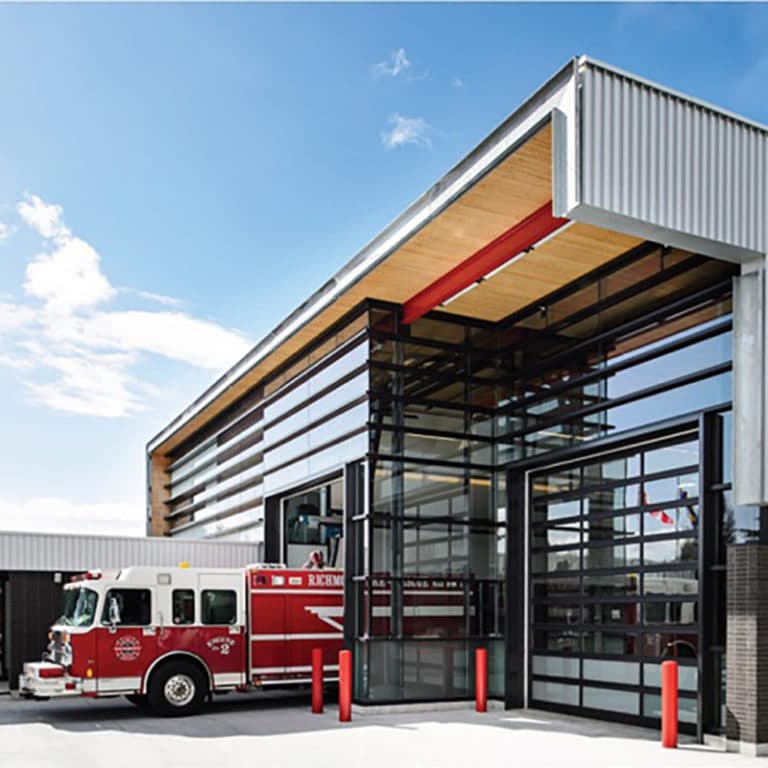 Steveston
No. 2 Hall
11011 No. 2 Road, Richmond, BC V7E 2E6
The Steveston Fire Hall No. 2 is on 3,072 square metres of land owned by the City of Richmond. The two bay drive-through fire hall sits on a small corner lot. The footprint of the fire hall is set obliquely on the site to accommodate the ingress and egress of safety vehicles with large turning radii. Extensive traffic analysis was undertaken to achieve the optimal apparatus bay location and orientation on site.
Situated at the door step of the historic Steveston village community, the fire hall acts as a natural gateway to the community with its hose/training tower announcing its presence as a beacon. Facing the streets, the transparent apparatus bay proudly presents its inner workings to the public with the extensive use of windows; while the day room, kitchen/dining and dormitory are located behind, towards residential neighbourhood as a privacy buffer to residents.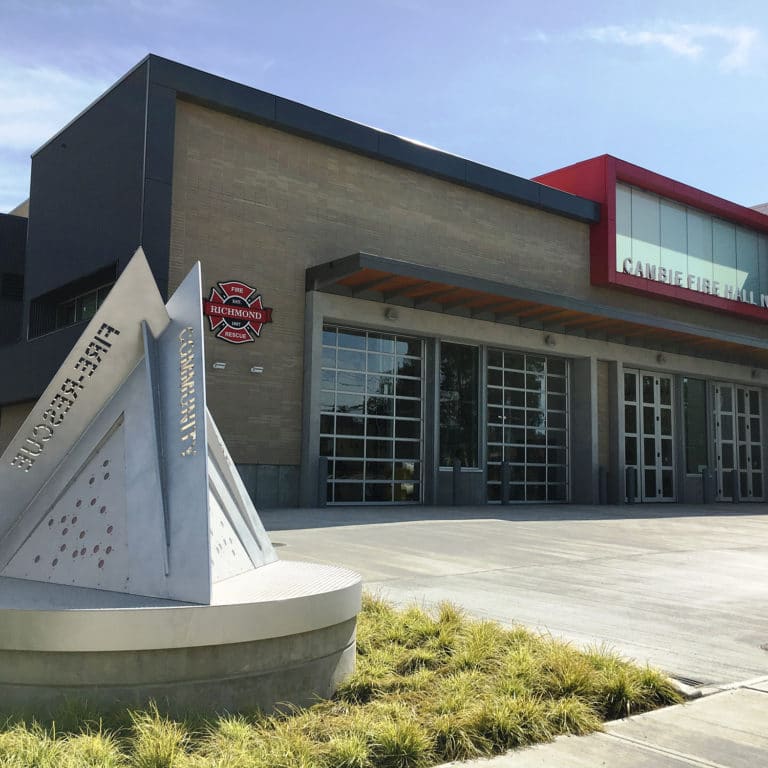 Cambie
No. 3 Hall
9680 Cambie Road, Richmond, BC V6X 1K4
The new $20.7 million Cambie Fire Hall No. 3 and Richmond North Ambulance Station replaced the 59 year old Bridgeport Fire Hall and adjacent B.C. Ambulance Service Station. The building is the first facility in a major B.C. city that has combined Fire and Ambulance services in one building.
Locating the two agencies in a single purpose-built facility and co-sharing of some common spaces, provides a number of operational and financial efficiencies. In addition, it provides the potential for joint training activities to further strengthen collaboration and the working relationship between our two agencies.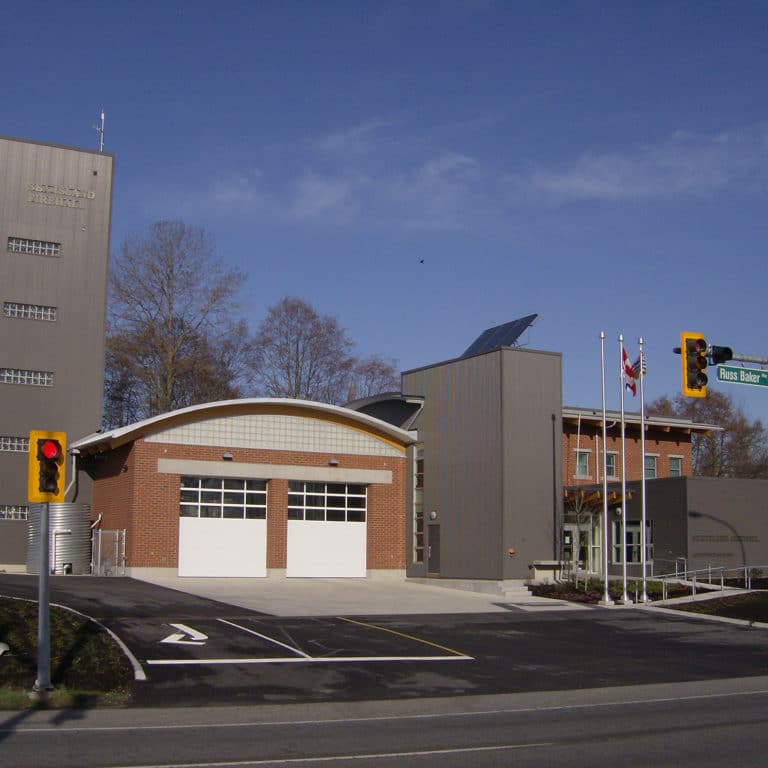 Sea Island
No. 4 Hall
3911 Russ Baker Way, Richmond, BC V7B 1M7
The 7,300 square feet Sea Island Fire Hall was constructed for occupancy in early 2007. It replaces the former 60 year old "No. 4" Fire Hall, on Lancaster Crescent in the Burkeville community.
The Sea Island Fire Hall was carefully designed with consideration of the surrounding environment, and community needs. Various features were implemented in order to maximize natural ventilation, light, and to preserve the natural elements of the site. Some of these features include green roofs, a geothermal energy field, a storm water management system, and a rainwater collection system.
Other key elements of the building include a two-story fire hall with a 60-foot training and hose-drying tower, two-engine bay garage, and a community accessible meeting room.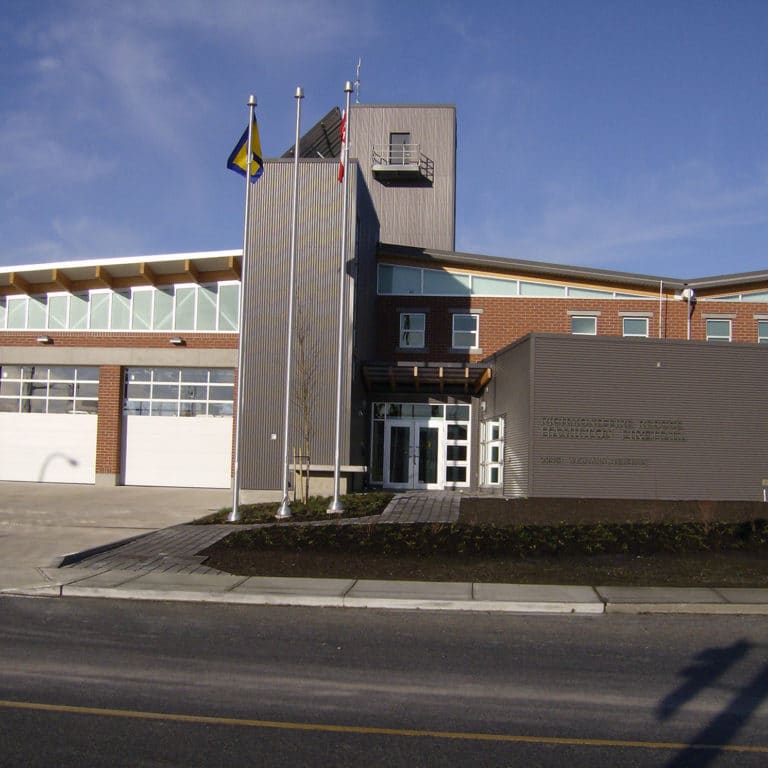 Hamilton
No. 5 Hall
22451 Westminster Highway, Richmond, BC V6V 1B6
The 8,100 sq.ft. Hamilton Fire Hall was fully re-constructed in November 2006. It replaces the 60 year old "No. 5" Fire Hall, north of the new site on Westminster Highway.
Key elements of the building include a two-story fire hall with a 60-foot high training and hosedrying tower and a two-engine garage bay.
As part of the overall project, a separate public washroom building was constructed adjacent to McLean Park. A public art display is included in the project and a public meeting room is located at the Fire Hall entry lobby.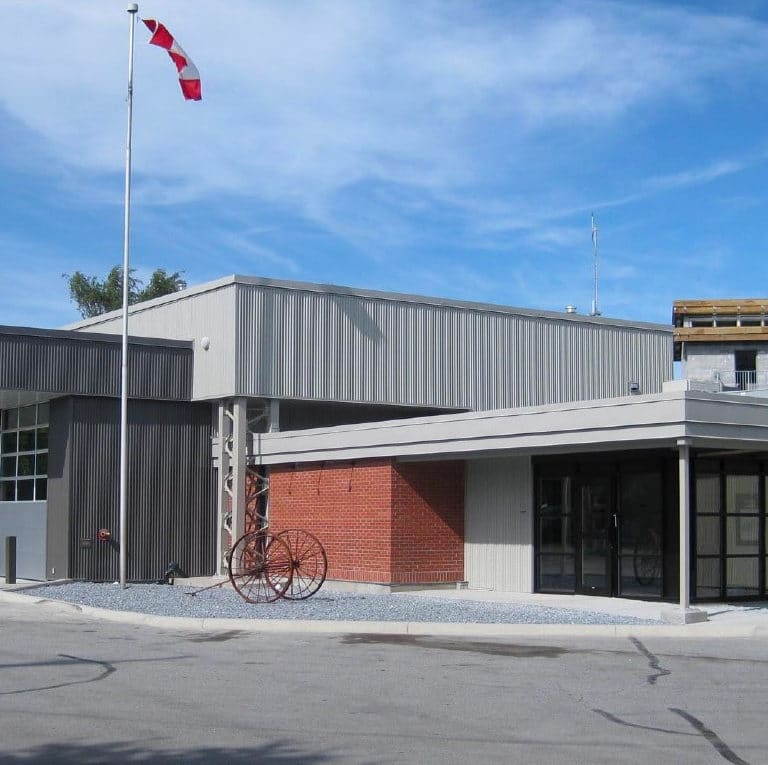 Shellmont
No. 6 Hall
9400 No. 4 Road, Richmond, BC V7A 2Y9
Shellmont "No. 6" Fire Hall was originally constructed in 1976. In April 2008 demolition of the original building began. By July 2009, a 7,350 square foot building on a 1 acre site was constructed. The total project cost was $3.5 million.
The updated Fire Hall consists of 3 apparatus bays, including a one bay mechanical service pit. Other features that were included in the new construction were a Self Contained Breathing Apparatus filling station, an equipment workshop, and various living quarters. Included in these living quarters are a Captain's office, dispatch station, common room, meeting room, showers, washrooms, kitchen, dormitory, as well as a fitness room.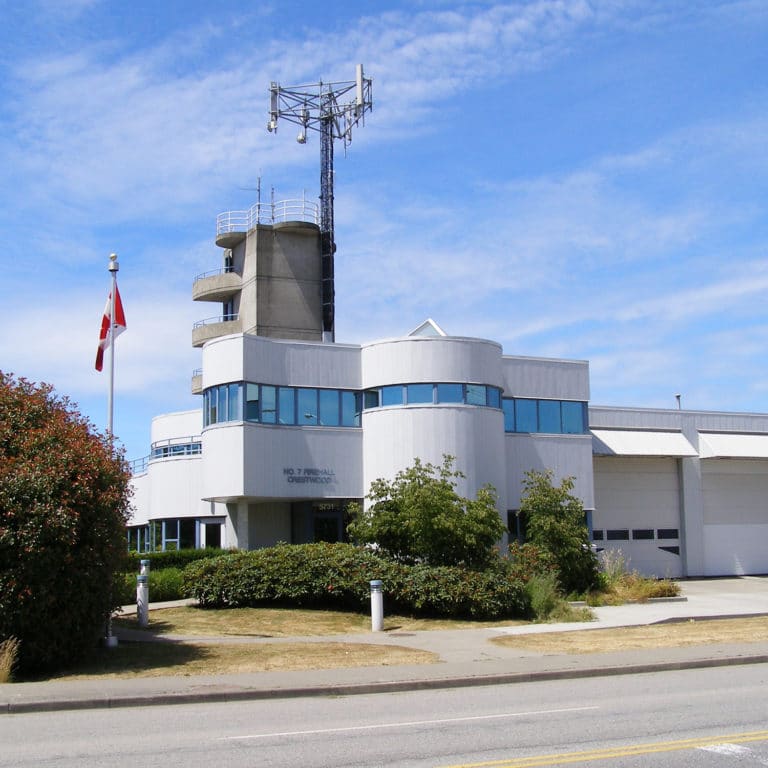 Crestwood
No. 7 Hall
5731 No. 6 Road, Richmond, BC V6V 1T2
The Crestwood "No. 7" Fire Hall is a two-storey structure located at 5731 No. 6 Road.
The fire hall sits on a 4,240 square metre site located in the Crestwood Light Industrial Business Park area.
This fire hall has two bays and a training room that serves dual purpose as Richmond Fire-Rescue's secondary emergency Operations Centre.
At the rear of the facility is a structure from which Richmond Fire-Rescue's Technical Rescue truck is deployed. The facility and truck house speciality equipment required at major incidents including: hazmat and decontamination equipment; air monitoring devices and confined space equipment. In total two apparatus and the Technical Rescue truck are deployed from this station.
There are seven fire halls located in Richmond to serve you.
Richmond Fire-Rescue responds to emergencies within the city of Richmond and provides backup response to the Vancouver International Airtport (YVR). YVR operates a private airside emergency response services.